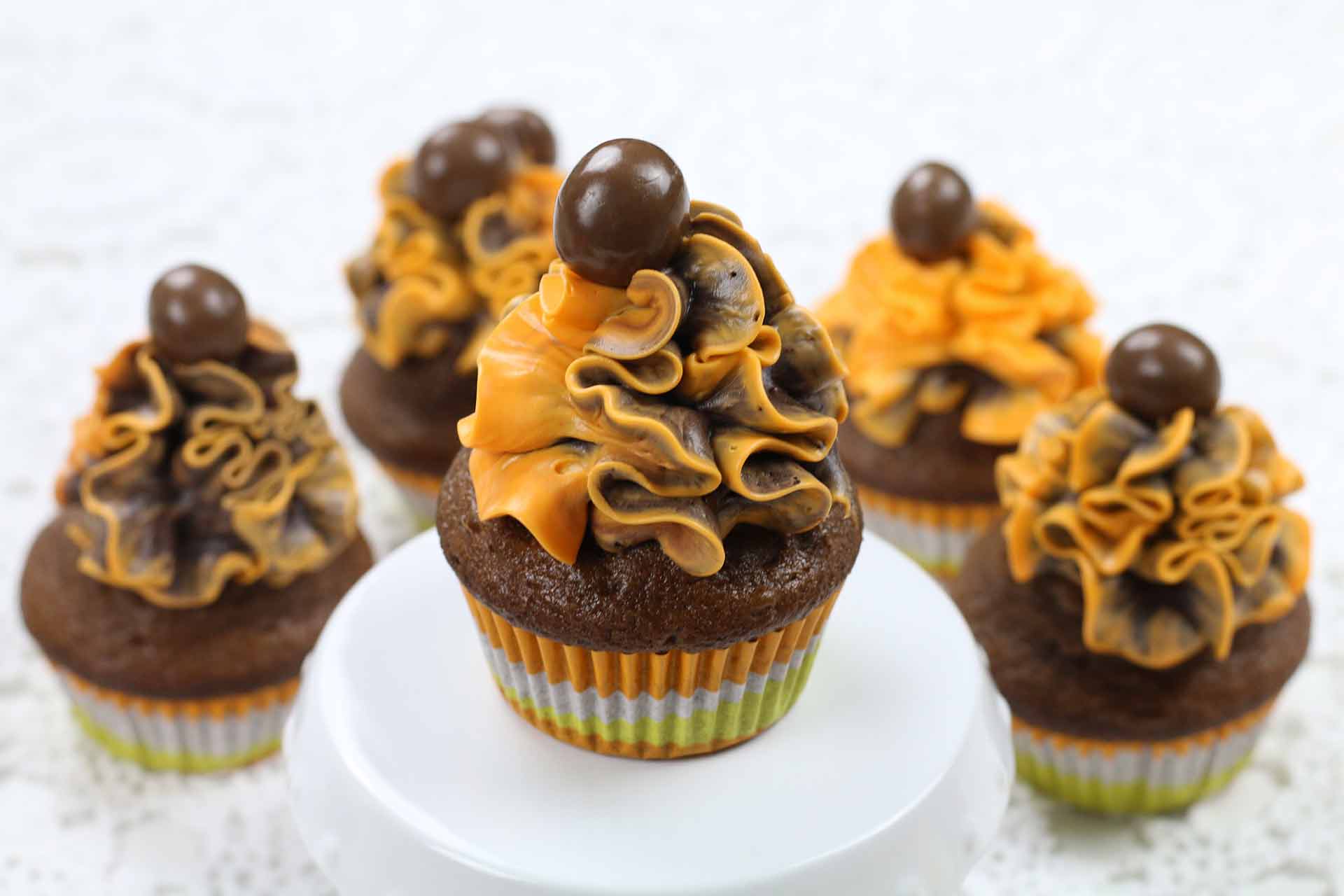 Gluten Free Chocolate and Apricot Cupcakes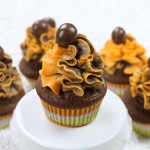 Chocolate And Apricot Cupcakes
These chocolate and apricot cupcakes are perfect for parties or just for a treat. Super moist with an apricot hit!
If you are from South Australia you will already know the local-born hero, Fruchocs. For those of you who don't know, they are a deeeeelicious chocolate ball filled with apricot and are great eaten on their own [though you won't find it easy to stop at one!] and most excitingly, they're Gluten Free! Luckily for the rest of Australia, the iconic Fruchocs have just landed nationwide and can be found in Coles supermarkets across the country.

Instructions
CAKE
Preheat oven to 160 degrees
Place 20 cupcake shells on a muffin tray
Blitz Fruchocs in a food processor or Thermomix to a fine crumb/paste and add to a bowl.
Add the rest of cake ingredients to the bowl and mix with a mix master on high. Make sure all ingredients are well combined.
Pour cake batter 3/4 a way up each cupcake shell.
Pop in the oven for 15 - 20 minutes, cupcakes a cooked once you can insert a skewer and comes out clean.
Once cooked set cupcakes aside to cool completely before decorating.
ICING
Add all ingredients except the Fruchocs and cocoa powder to a bowl and mix with a mix master until fully combined.
Separate half of the mixture to another bowl and add the cocoa powder. Mix again so that the cocoa is blended through.
In the other bowl add 1 drop of orange food colour and mix through until the icing turns orange.
Icing should stand in stiff peaks once ready, make sure the butter is cubed not melted otherwise it will make runny icing.
Once cup cakes have cooled completely you can start decorating. (I used a Wilton decorating tip #1M (2110) for the icing, I filled one side of the piping bag with chocolate icing and the other side with orange icing, once piped it should come out in a double colour formation.)
Pop a Fruchoc on each cupcake.
Enjoy!
Allergens


Do you have a favourite gluten free cake recipe you would like to share? We would love to hear from you!