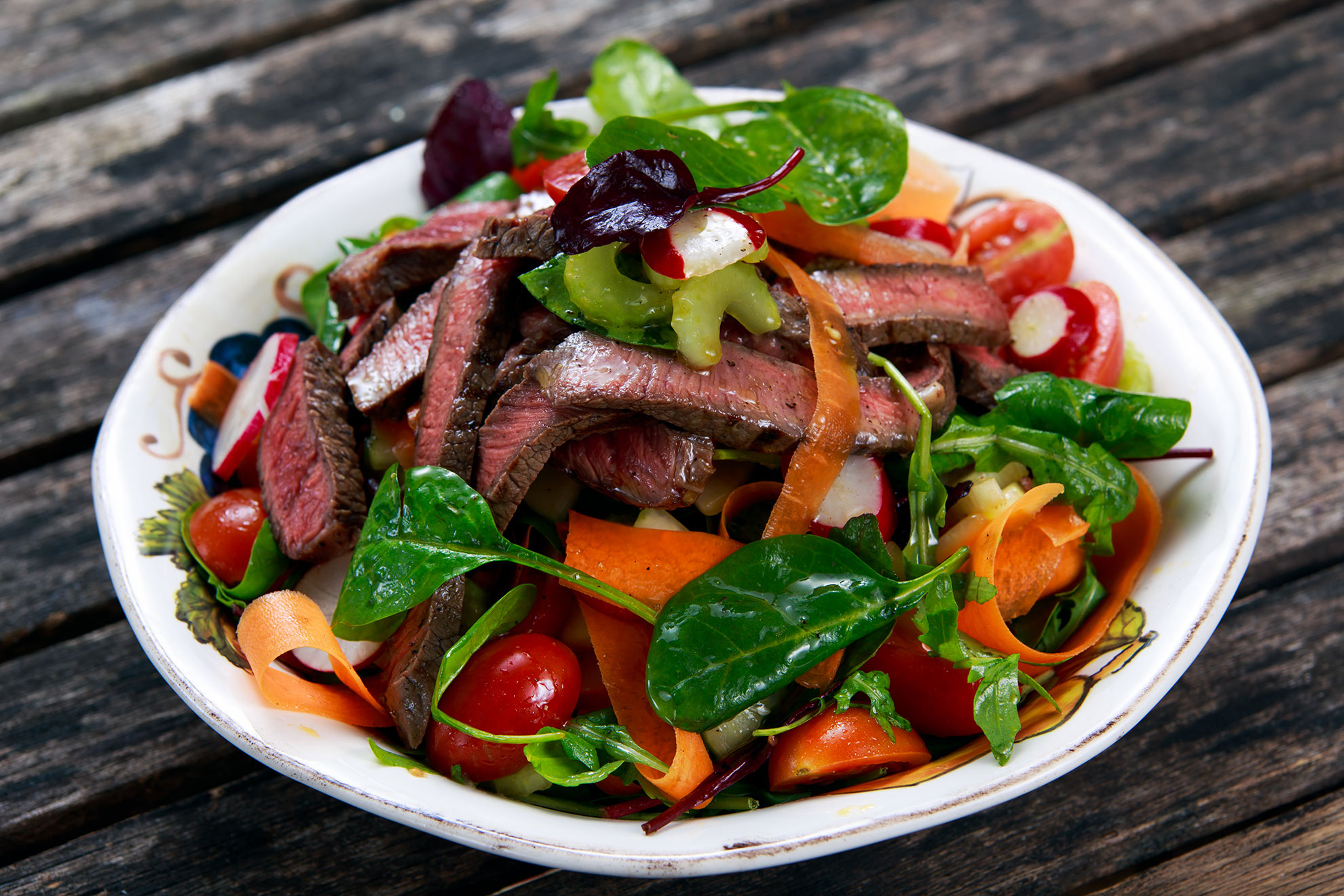 Marinated Steak Salad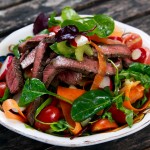 Yield: 2
Prep Time: 15 minutes
Cook Time: 15 minutes
Print
Nutrition facts

(per portion)
Nutrition facts
(per portion)
Calories: 610
Carbohydrate Content: 7.2g
Cholesterol Content: 2.46g
Fat Content: 7.5g
Fiber Content: 2.0g
Protein Content: 85.7g
Saturated Fat Content: 7.5g
Serving Size: 391g
Sodium Content: 4.05g
Sugar Content: 3.4g
Marinated Steak Salad
Instructions
Combine the olive oil, balsamic vinegar, Worcestershire sauce, sweet soy, mustard, and garlic powder in a small bowl. Mix the ingredients well to combine.
Place in a large resealable plastic bag with the beef steak. Season with salt and pepper.
Place steak with the marinade in the fridge for 20 minutes. While the steak is marinading, start preparing the salad.
Slice the cherry tomatoes in half and add to a large salad bowl. Wash and dry the spinach leaves and add to the salad.
Peel the skin off the carrot, then use the peeler to peel strips to add to the salad. Slice the radish into thin slices and add to the bowl.
Drizzle the salad with olive oil and balsamic vinegar, then season with salt and pepper and toss well.
Heat a large oiled pan to a medium high heat. Remove the steak from the fridge and the plastic bag and cook the steak for 7-12 minutes, depending on the thickness for medium rare.
Leave the steak to rest for a further 5 minutes under some foil before cutting into slices and serving on top of the salad.
Want something fresh but hearty? Whip up our juicy marinated steak salad with fresh summer greens! It's perfect for a quick lunch or a light dinner.
Do you have a salad recipe you would like to share? Please submit using the 'Submit a Recipe' link above or in the comments below.