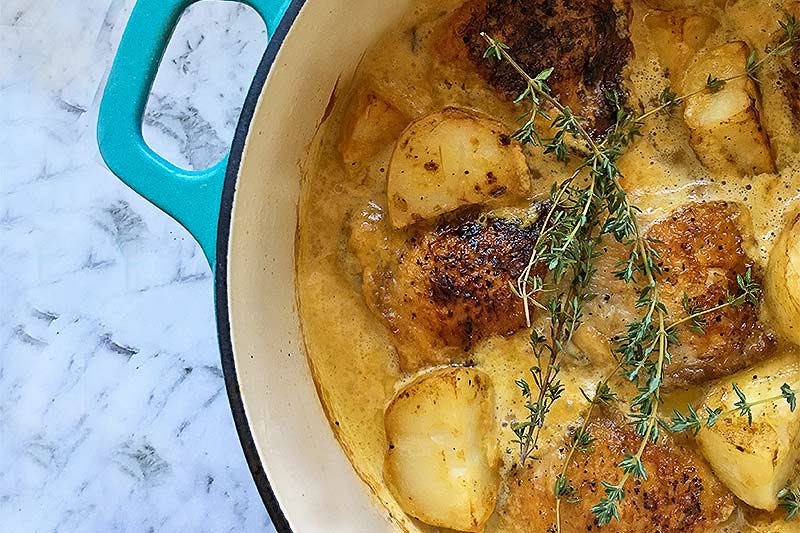 One Pot Honey Mustard Chicken and Potato Bake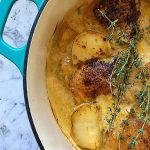 Honey Mustard Chicken and Potato Bake
A one pot wonder if ever there was one, add your favourite greens to the pot or leave as is. This really is a winner winner, delicious honey mustard chicken dinner!
Instructions
1. Preheat the oven to 200°C. Season both sides of the chicken with salt and pepper.
2. In a large oven-proof frying pan or cast iron French oven pot, heat the oil over a high heat. Place the chicken in the pot, skin side down and cook for five minutes each side or until lightly golden. Set aside and keep warm.
3. Add the bacon and potato halves to the pot. Cook for six minutes or until golden.
4. Add the cream, mustard and water to the potatoes and bacon, stirring to combine. Return the chicken to the pot, bring to a simmer and cover with a lid (or foil).
5. Cook in the oven (lid on) for 10 minutes. Remove the lid, add the thyme sprigs and cook for a further 10 minutes until the chicken is golden and potato is cooked through. Serve with a side of salad or vegetables and crusty bread.
A one pot dinner of sweet mustard chicken and hearty potatoes, perfect for the cooler nights ahead.