Perfect Grilled Sweet potato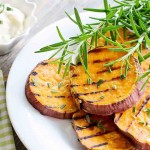 Perfect Grilled Sweet potato
These perfect grilled sweet potato slices are great on their own as a snack or perfect for a side.
Instructions
Heat a grill on high, if you want the char marks then cook on the open grill - a normal grill is fine though.
Rub each side of the sweet potato with olive oil and sprinkle with Vegetta.
Pop on the hot grill and cook for about 2 minutes each side. You want them to be cooked but not too soft.
Take off and serve. These are great with natural yogurt and your favourite herbs!

Do you have a recipe you would like to share? We would love to hear form you!