Raspberry Chia Jam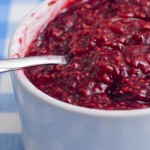 Raspberry Chia Jam
This Raspberry Chia Jam is a perfect condiment to add to a snack or lunch. The great thing about this recipe is that it you can use most fruits to make it.
Instructions
Place berries into a saucepan over medium heat.
Allow berries to melt and flatten with the back of a fork.
Add rice malt syrup and maple syrup and stir for one minute.
Add chia seeds and mix well.
Simmer for 5-10 minutes until thickens.
Stir so it doesn't stick to the pan, be carful not to have the pan to hot or the edges will burn.
Pour into 2 sterilised jars and turn upside down to seal.
Not suitable for freezing.
Add to smoothies and natural yoghurt or add to biscuits to make jam drops.
Do you have a favourite jam recipe you would like to share? We would love to hear from you!