Slow Cooker Satay Chicken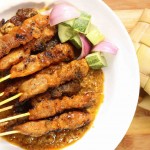 Slow Cooker Satay chicken
This Slow Cooker Satay Chicken is downright delicious and we have to say it's one of the best satay recipes we've come across.
Instructions
Once chicken has been threaded onto skewers pop in a container with a sealed lid and into the fridge.
Combine all ingredients except chicken, oil and crushed nuts in a jug and mix well.
Add mixture to slow cooker on low for approx 5 hours.
30 minutes before serving, heat a frying pan or grill on high.
Brush the chicken kebabs with a little oil and cook in pan until golden brown. Test a piece to make sure they are cooked the whole way through.
Once cooked set aside on a platter and spread out evenly.
Add sides of your choosing, sliced cucumber and onion or rice.
Give the sauce a last stir 5 minutes before serving and add the nuts
Pour the sauce over the skewers and enjoy!
Tip
You can use the sauce as dipping as opposed to pouring it over. If you like a thicker sauce, add one tablespoon of corn flour 30 minutes before serving and stir well. Soak your skewers in water over night before using to avoid burning the skewers.
Allergens
Allergens

Do you have a slow cooker recipe you would like to share with us? We would love to hear from you!