Baked Stuffed Portobello Mushrooms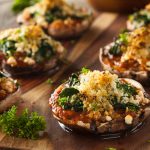 Yield: 3
Prep Time: 10 minutes
Cook Time: 20 minutes
Print
Baked Stuffed Portobello Mushrooms
Instructions
Preheat the oven to 180˚C.
Wilt the spinach in a saucepan with 3 tablespoons of water in a non stick pan. Drain and set aside.
Combine the spinach, tomato, cheese, olive oil, rosemary, thyme, lemon juice and garlic in a small bowl. Season to taste.
Remove brown gills from the undersides of mushroom caps using a spoon and discard. Remove the stems.
Cover a baking tray with foil. Place the mushroom caps stem side up on the tray.
Spoon 1/4 cup tomato mixture into each mushroom cap. Sprinkle with parmesan cheese and drizzle with olive oil.
Place in oven and cook for 20 minutes.
These stuffed portobello mushrooms are the ideal vegetarian dinner, served with a mixed leaf salad. Who said winter food can't be warming and delicious?