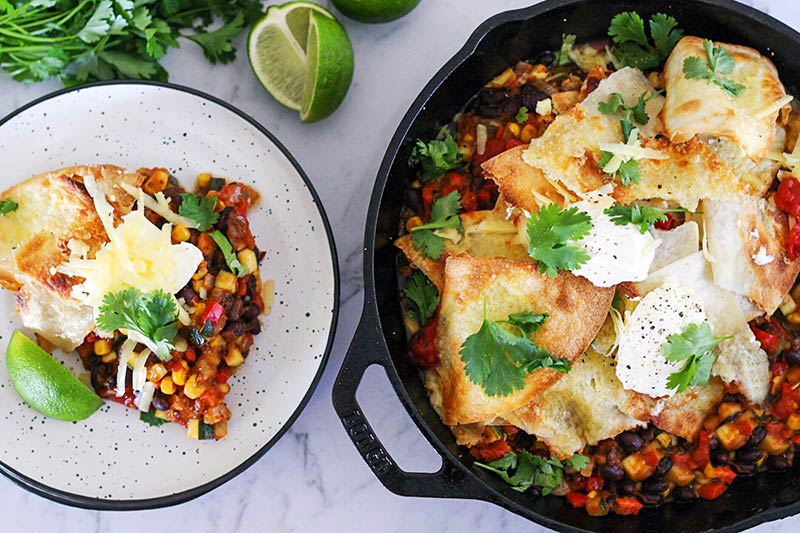 Easy Mid Week Mexican Dinner – One Pan Vegetarian Enchiladas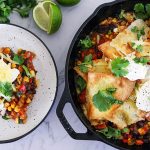 One Pan Vegetarian Enchiladas
De-constructed Mexican enchiladas means you can have all the fun and flavour of this favourite Mexican dish, without all the washing up. Winning!
Add more of your favourite ingredients if you want to bulk it up a little more. For a milder version, try using a taco seasoning and a very mild salsa sauce.
Instructions
1. Heat the vegetable oil in a deep sided oven-proof frying pan over medium heat.
2. Add the onion and the garlic. Stir until the onion is soft, around four minutes.
3. Add the capsicum and zucchini. Stir for two minutes until the capsicum softens.
4. Stir in the spice mix. Cook, stirring for about a minute or until fragrant. Add the tomato salsa, chopped tomato and one cup of water. Bring to the boil.
5. Add the rinsed and drained beans and corn to the pan, stir to combine. Turn the heat down to low and let the pan simmer for five minutes, until the mixture thickens a little. Preheat the grill to a high setting.
6. Tear the tortillas into pieces and place them over the bean mixture. Spray the pieces lightly with olive oil and top with the grated cheese. Cook under the grill for a few minutes until cheese is melted and tortillas are golden and crisp.
7. Top with sour cream, coriander leaves and a light dusting of black pepper . Serve with extra cheese, coriander and a squeeze of lime.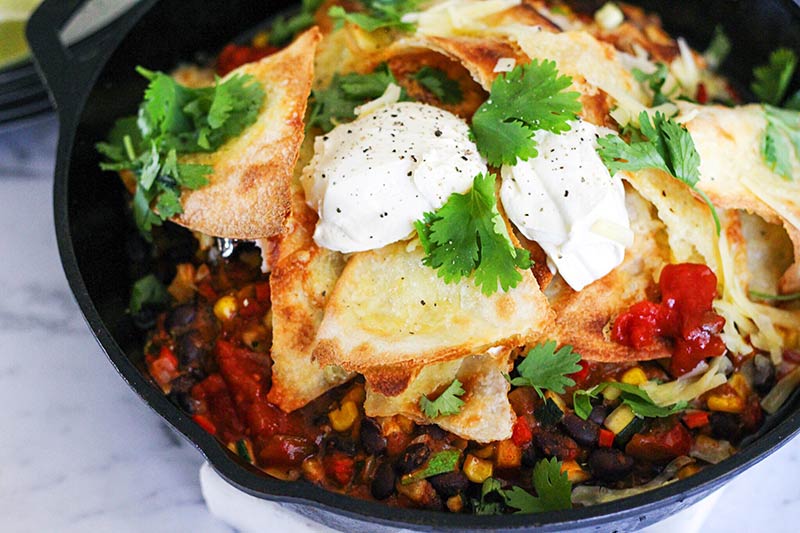 Dinner doesn't get much quicker than a one pan Mexican dish. Loaded with veggies, beans and flavour, you won't miss the meat one bit!