Chicken and Coconut Soup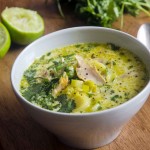 Chicken And Coconut Soup
Your house will smell amazing once you start cooking this dish, the fresh aromas from this chicken and coconut soup will have you salivating!
Instructions
Place all ingredients except for the coriander and chicken into a large saucepan and simmer on low heat for approx an hour.
Add the chicken breast and cook for approx. 15 minutes until cooked through.
Remove the chicken and shred on a plate or slice finely, then pop back into the soup base.
Cook for a further 5-7 minutes, add coriander and serve in a bowl.
TIP:
This soup is also great poured over rice.
Please note we made this on a gas cook top, cooking time may vary depending on appliance. Check that chicken is fully cooked by taking a slice out and cut on a plate, it should be cooked the whole way through with no pink bits.
Allergens

Do you have a favourite soup recipe you would like to share with us? Submit them using the 'Submit a Recipe' link above or share in the comments below.