Chocolate Fruit and Nut Balls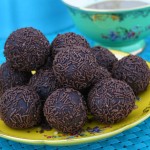 Chocolate Fruit and Nut Balls
These chocolate fruit and nut balls are a delectable treat. They set a bit firmer than our normal ball recipes so take them out of the fridge 20 mins before serving.
Instructions
Crush biscuits to a fine consistency in a mixmaster or Thermomix
Melt the chocolate in a microwave safe bowl for 2 minutes in the microwave
Mix chocolate with the biscuit crumbs
Pop mixture in fridge for 5 minutes until mixture starts to firm up little
Roll into approx. 1 inch balls
Coat in chocolate sprinkles
Pop in the fridge to set
Allergens

Do you have a favourite ball recipe you would like to share with us? Submit them using the 'Submit a Recipe' link above or share in the comments below.