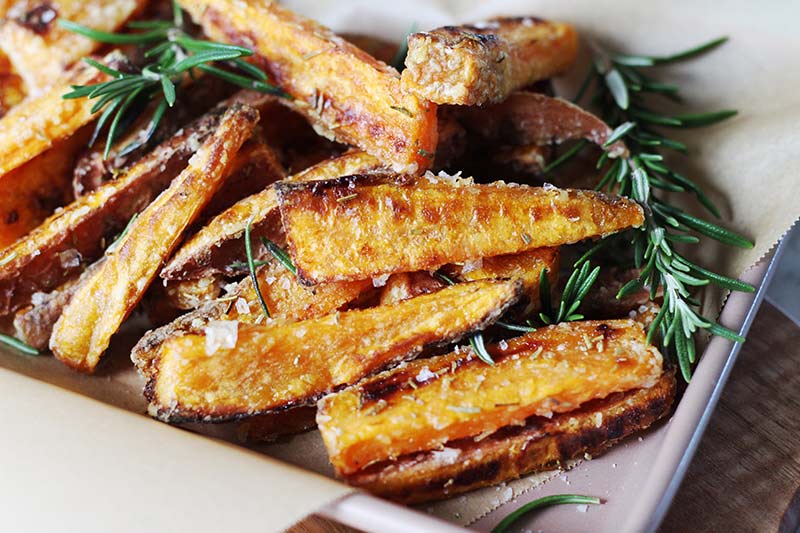 Golden and Delicious, Baked Sweet Potato Fries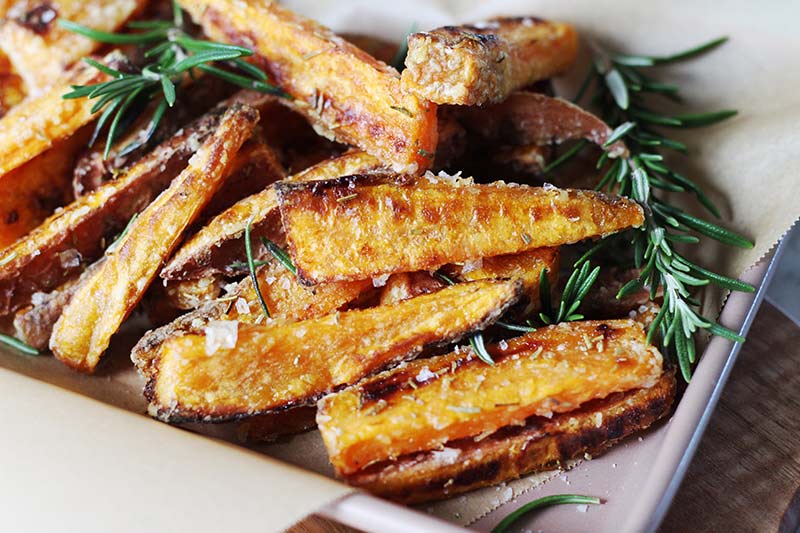 Baked Sweet Potato Fries
Kids and adults alike love chips, am I right? It's super easy to make your own hand cut chips at home AND you can make them a smidge healthier (and yummier) by using sweet potato and baking them. Sweet potato fries coming straight up!
Instructions
1. If your kids are going to kick up a fuss about potato peel, go forth and peel the sweet potatoes. Otherwise leave them in all their nutritious glory, giving them a good scrub to ensure they're free of dirt.
2. Slice the potatoes into carrot stick-like batons. You want them not as thin as a French fry, but not as chunky as a potato wedge. For the best crunchy outcome (and if you have time) let the sweet potato fries soak in a bowl of water for an hour. Drain and pat away excess water with paper towel. Preheat the oven to a hot 220°C.
3. In a dry bowl or plastic bag, combine the sweet potato and a rounded tablespoon of cornflour. Toss to combine. Each fry should have a light dusting of cornflour. If more is required to cover all the fries, repeat the step.
4. Place the sweet potato fries on a metal baking tray, drizzle in olive oil and toss to coat. Spread them out so they have plenty of room, avoiding overcrowding the tray. Sprinkle with sea salt and dried rosemary.
5. Bake for 12 to 15 minutes. Using a metal spatula, turn the fries and cook for a further 10 minutes or until crunchy as preferred.
6. For a true aromatic sweet potato fry experience, sprinkle the cooked fries with fresh rosemary before serving. Delicious!
Sweet potato fries – they're the chip you can feel a *little* bit better about eating and when BAKED instead of fried, they're practically GUILT FREE chips.