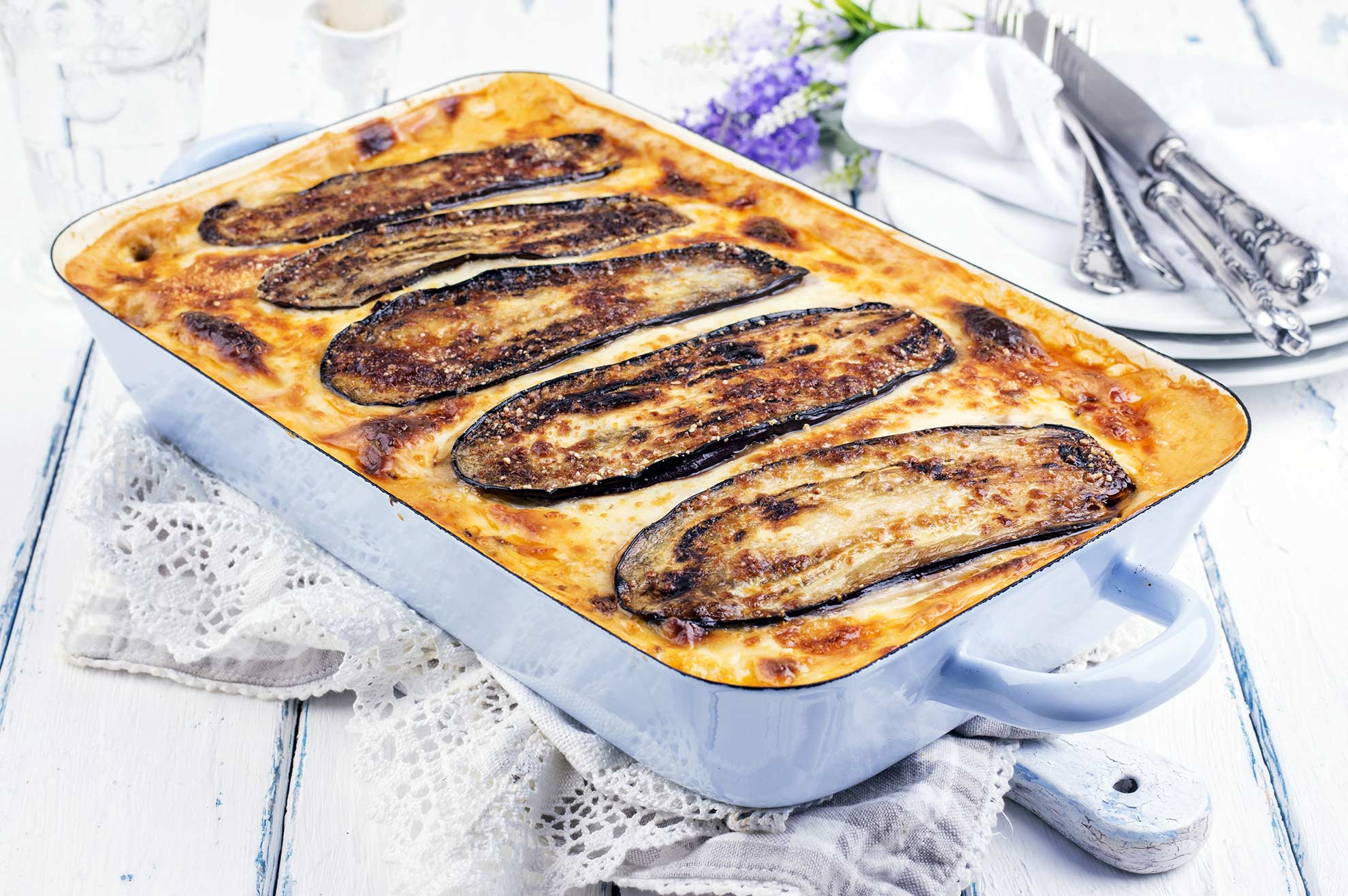 Greek Moussaka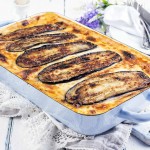 Yield: 6
Prep Time: 30 minutes
Cook Time: 45 minutes
Print
Nutrition facts

(per portion)
Nutrition facts
(per portion)
Calories: 294
Carbohydrate Content: 21.9g
Cholesterol Content: 39mg
Fat Content: 20.9g
Fiber Content: 6.3g
Protein Content: 8.0g
Saturated Fat Content: 9.4g
Serving Size: 290g
Sodium Content: 171mg
Sugar Content: 9.8g
Greek Moussaka
Instructions
Brush the eggplant with 2 tablespoons olive oil.
Heat a large, deep frying pan over a medium heat and cook the eggplant for 2-3 minutes on each side then set aside.
Heat the remaining oil in the saucepan and cook the onion and garlic for 5 minutes until softened and translucent.
Add the lamb mince and cook, breaking the mince up with a wooden spoon, for 7-8 minutes until all browned.
Add the canned tomatoes, cinnamon, allspice, sugar and bay leaf.
Bring to the boil then simmer for 30 minutes until the sauce has thickened and reduced.
Preheat the oven to 180˚C.
While the lamb is cooking, make the sauce by melting the butter in a saucepan. Heat the pan to a medium-high heat and add the flour while stirring. Cook for 1 minute.
Gradually add the milk while stirring rapidly. Cook for 5 minutes until the mixture has thickened and is smooth. Remove from the heat.
Remove the bay leaf from the lamb mixture.
Grease a large oven proof dish. Layer the dish with one third of the eggplant, then half of the lamb sauce. Then repeat with another layer of eggplant and lamb. Spread the white sauce over the eggplant on top, sprinkle with the grated mozzarella, then top with the last pieces of eggplant.
Bake for 45 minutes until golden. Top with parsley before serving.
This traditional greek dish should be a staple in any Aussie family's household. Filled with juicy layers of grilled eggplant and lamb mince reduced in a classic tomato sauce, you won't even be missing that lasagne!
Tip: If you're not a fan of lamb, try it with beef mince.