Jamie Oliver's Granola Dust – Make Your Own Low Sugar Breakfast Cereal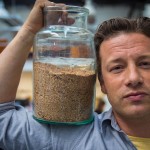 Jamie Oliver's Granola Dust – Make Your Own Low Sugar Breakfast Cereal
Instructions
Toast oats, seeds and nuts for 10-15 minutes at 180c to intensify the flavour
Put everything into a blender (or do in batches) and blend until finely mixed
Pour into a jar and will last up to a month or so.
Serve with fresh fruit, some yoghurt and a little milk - a perfectly healthy balanced breakfast.
Enjoy!
Breakfast is the most important meal of the day and packet cereals are often loaded with sugar.
Jamie Oliver's Granola Dust recipe has no such thing – packed with fruit, oats, nuts and nutrients plus a secret flavour that your kids will love.
Be sure to watch the video above and enjoy!