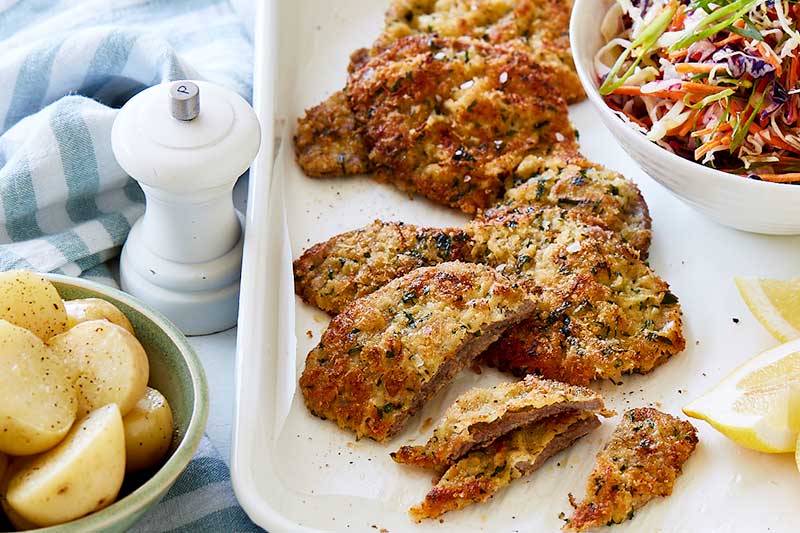 Lemon and Parmesan Veal Schnitzel With Coleslaw Puts the Crunch into Dinnertime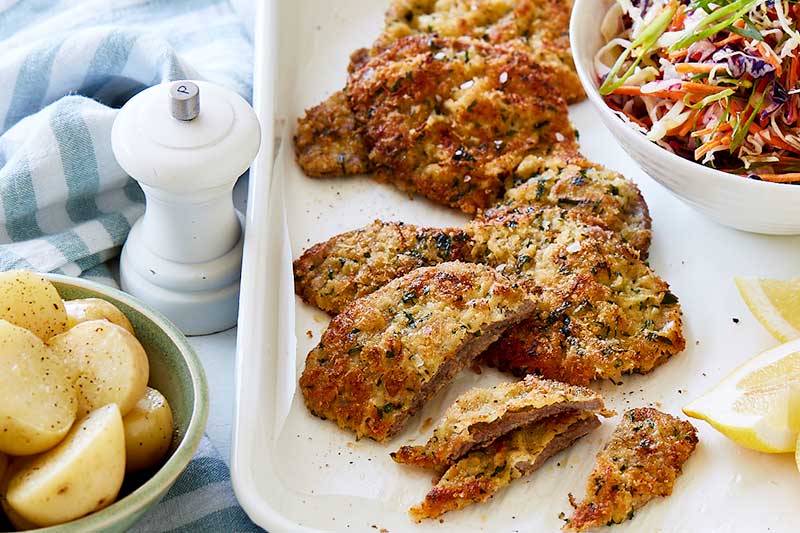 Lemon Parmesan Veal Schnitzel and Coleslaw
Schnitzel and crunchy, colourful coleslaw go hand in hand for a tasty dinner. Make delicious schnitzels from scratch with this great recipe from Australian Veal.
Instructions
1. Combine lemon zest, parsley, parmesan and panko breadcrumbs in a large shallow bowl. Season and stir to combine.
2. Place flour in a shallow bowl. Pour egg into a separate shallow bowl. Working with one piece of veal at a time, toss in the flour to coat, brushing off the excess. Dip in egg mixture, and then press in the panko breadcrumb mixture to coat. Transfer to a plate.
3. Heat 2 tablespoons of oil in a large non-stick frying pan over medium-high heat. Cook veal, in batches if necessary (don't overcrowd the pan!), for three to four minutes each side or until golden and cooked through. Set aside on a plate lined with paper towel.
3. Place coleslaw in a large bowl, drizzle with remaining lemon juice and oil. Season with salt and pepper and toss to coat.
4. Serve veal schnitzels with coleslaw, steamed potatoes and lemon wedges.
This is an original recipe from Australian Veal.
For an awesome midweek dinner, try this delicious veal schnitzel packed with lemon and parmesan flavour!