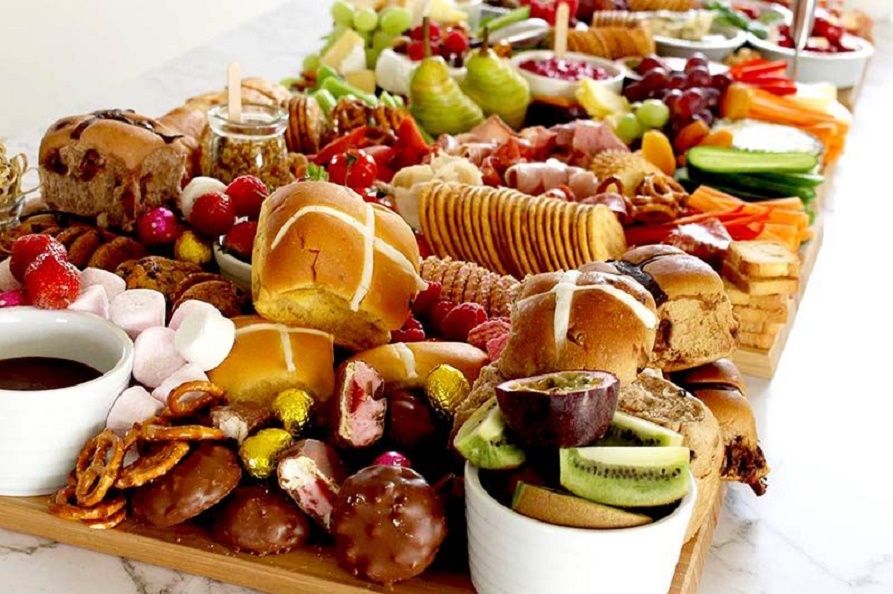 Easter Entertaining Made Easy with These 5 Affordable and Delicious Platters with Woolworths
Jumping on board the grazing platter trend is an excellent way to feed a crowd when entertaining family and friends this Easter.
It's the perfect no-cook dining solution for hosts wanting to spend their time connecting with friends and not being a slave to the kitchen!

We've made it both easy and affordable to create that WOW factor by hitting the aisles at Woolworths to create four different platters for any occasion.
So get ready, here's our guide to creating crowd-pleasing entertaining platters without breaking the bank!
1. Antipasto Platter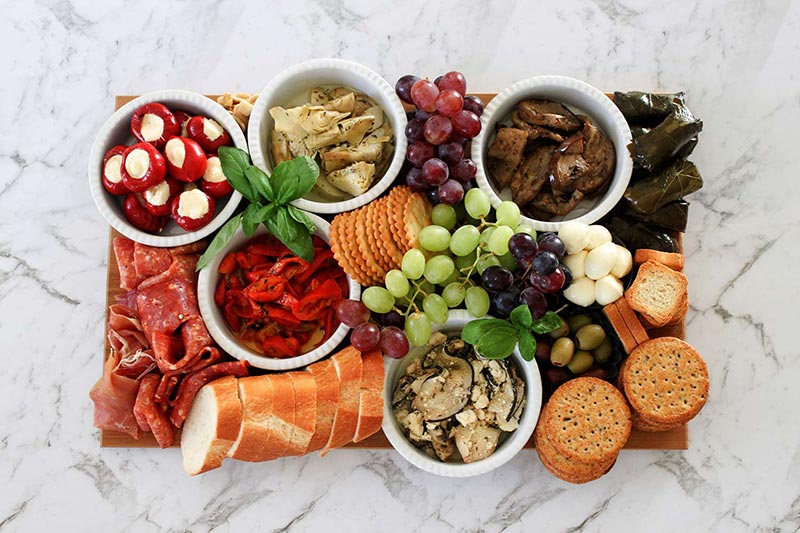 Nailing the antipasto department with their Marinated & Chargrilled range, the Woolworths Own range features handy 180g containers that are easy to grab and go.
Pick and choose several of your favourites (stuffed capsicums and artichokes, yum!) to be the stars of your board.
Fill in the rest of your board with a variety of crackers, cheese, some vegetable sticks, grapes, breads and deli antipasto meats.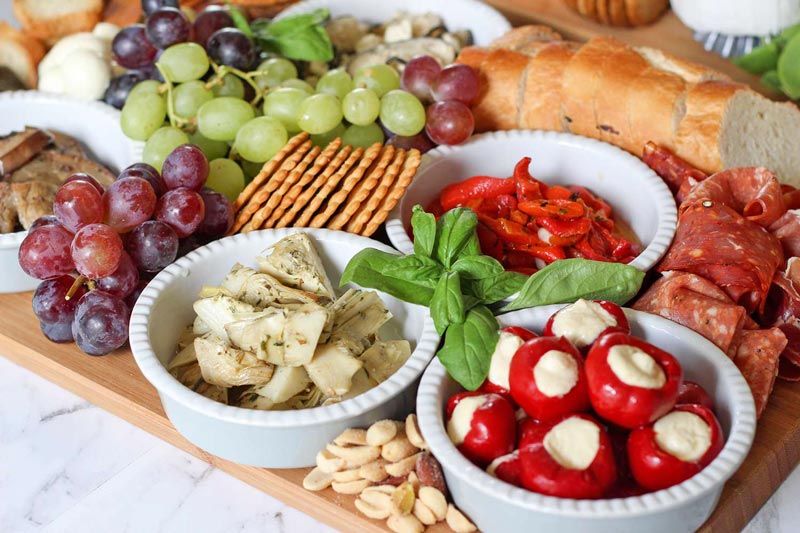 We used:
Woolworths stuffed baby capsicums
Woolworths Chargrilled & Marinated artichokes
Woolworths Chargrilled & Marinated eggplant
Woolworths dolmades
Woolworths Chargrilled & Marinated capsicum strips
Woolworths Chargrilled & Marinated zucchini with fetta
Woolworths cherry bocconcini
Woolworths stuffed green olives
Woolworths kalamata olives
Woolworths wheaten crackers (assorted)
Mini toasts
Woolworths bakery baguette, and
Woolworths mixed nuts
From the service deli: prosciutto, salami,
From the fruit & veg department; fresh basil, red grapes, green grapes
2. Cheese Platter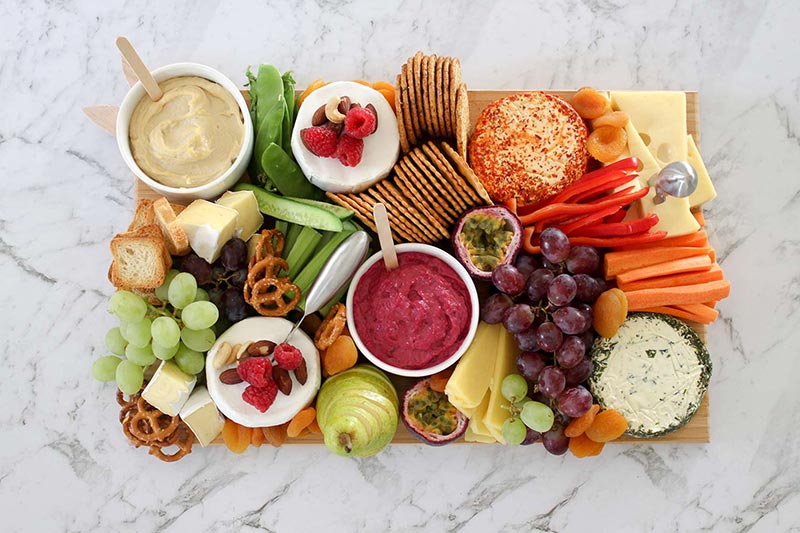 If you LOVE cheese (and who doesn't?), you're spoiled for choice at Woolworths.
Pick your favourite cheeses at Woolworths from creamy mini brie or camembert and add some spice with a sweet chilli infused cream cheese. Woolies also have all the favourites including swiss and cheddar in manageable, board and budget-friendly sizes.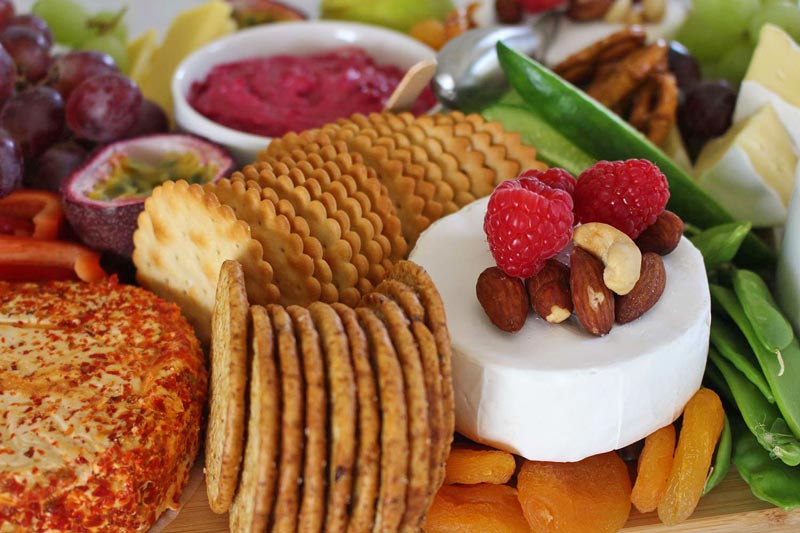 We used:
Woolworths Select spring onion & chives cream cheese
Woolworths Select sweet chilli cream cheese
Woolworths camembert cheese
Woolworths brie cheese
Woolworths Swiss cheese
Woolworths Colby cheese
Woolworths wheaten crackers (assorted)
Woolworths pretzels
Mini toasts
dips x 2 (hommus & beetroot hommus)
Woolworths dried apricots
From the fruit & veg department; snow peas, Odd Bunch mini cucumbers, green grapes, red grapes, raspberries,
pear, passionfruit, carrot sticks and celery sticks.
3. Meat Platter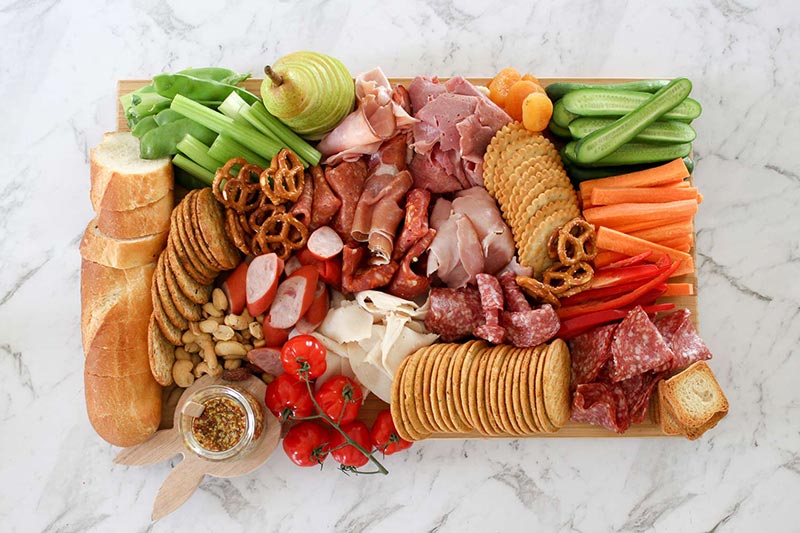 A carnivore's delight! I made a beeline for the Woolworths Deli, making it super affordable to pick up several meats. You only need a handful of each for variety on this meat platter and if you're unsure what meats to choose, just ask one of the deli salespeople – they'll steer you in the right direction!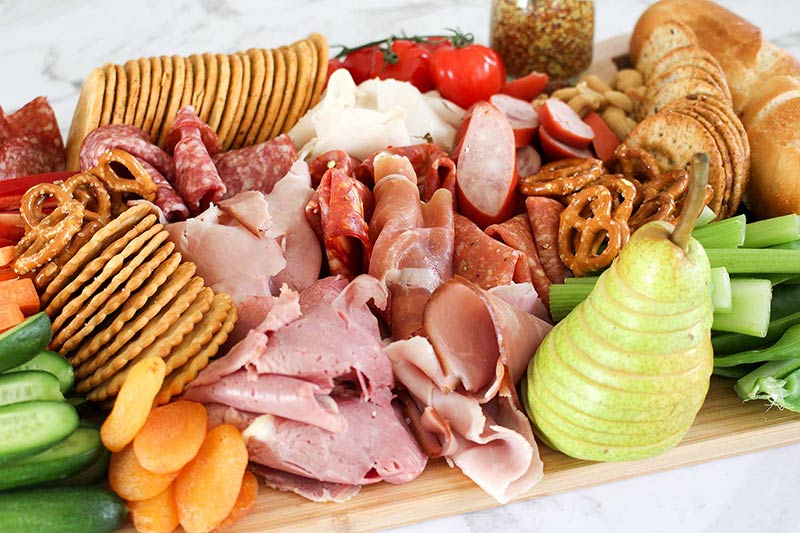 We used:
Deli Triple smoked leg Ham
Deli Danish salami
Deli chicken breast
Deli corned beef
Deli kabana / kransky
Serrano ham
prosciutto
Woolworths Select wholegrain mustard
Woolworths bakery baguette
Woolworths wheaten crackers (assorted)
Woolworths pretzels
Woolworths mixed nuts
Woolworths dried apricots
Mini toasts
From the fruit & veg department: snow peas, celery sticks, Odd Bunch mini cucumbers, baby sweet vine-ripened tomatoes and a pear

4. Sweet Platter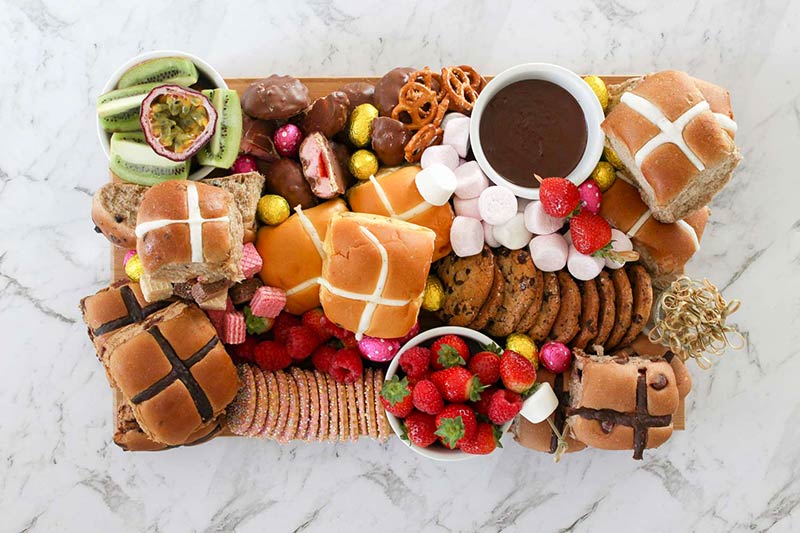 What's Easter without a hot cross bun?
Woolworths have five mouth-watering hot cross buns available this year:
Cadbury Choc Chip
Mocha
Brioche
Fruitless, and
Traditional
Don't assume extra fancy hot cross buns are going to blow the budget because they're not. You can have all the scrumptious luxury of a buttery brioche bun MINUS the luxury price tag at just $3.50 for a 6 pack, thank you very much.
Pile hot cross buns high on the board and fill in gaps with sweet treats, biscuits, and fruit. Melt chocolate for a delicious fruit fondue dip and don't forget a scattering of chocolate eggs for good measure!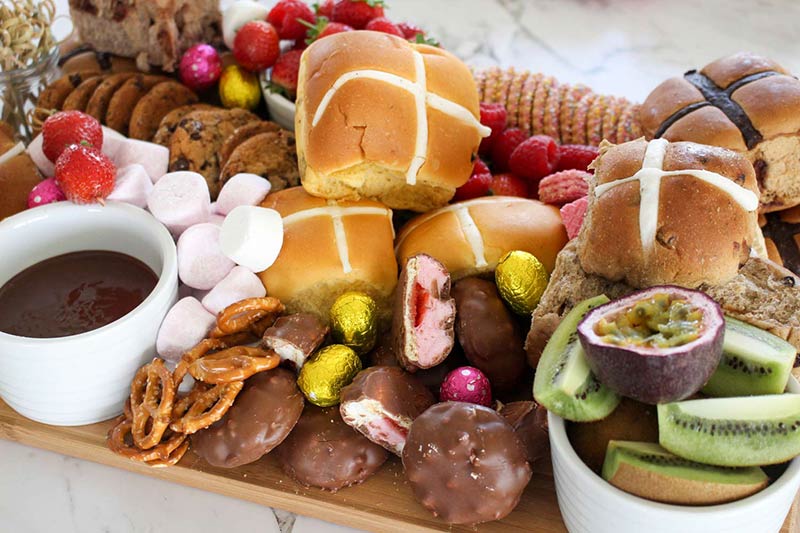 We used:
Woolworths Brioche Hot Cross Buns
Cadbury Chocolate Chip Hot Cross Buns
Woolworths Fruitless Hot Cross Buns
Woolworths Mocha Hot Cross Buns
Woolworths Mini Traditional Hot Cross Buns
Woolworths Rocky Road Mallows biscuits
Woolworths choc chip cookies
Woolworths Hundreds & Thousands biscuits
Woolworths marshmallows
Woolworths caramel filled chocolate eggs
Woolworths popping candy filled chocolate eggs
Woolworths pretzels
Woolworths Creme Wafer Minis,
From the fruit  & veg department: strawberries, raspberries, kiwifruit, passionfruit, and
melted chocolate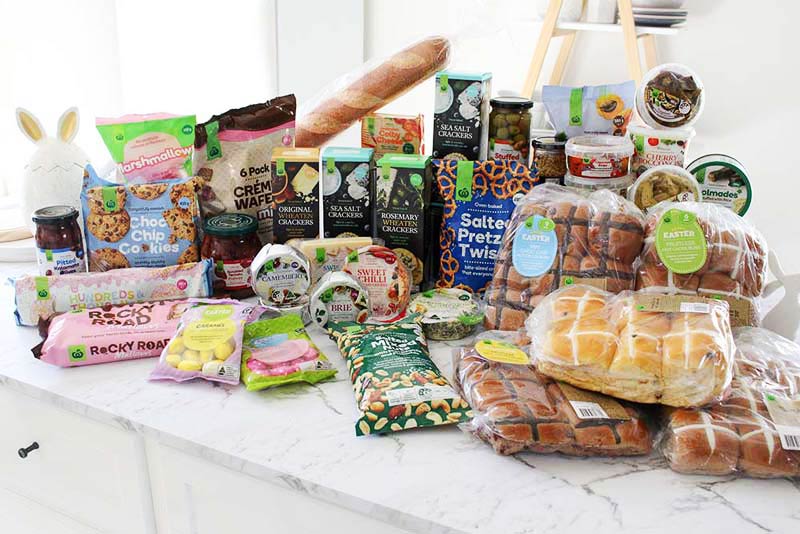 Mum's Pantry Top Platter Building Tips:
When shopping to a budget, choose Woolworths own brand as much as possible. The quality is AMAZING, as is the price.
Shop Woolworths special prices in the fresh fruit and vegetable market, Woolworths really are the fresh food people and there's gold to be found in their Odd Bunch section too!
When setting out your platter, lay your big items down first. Cheeses, dips, antipasto tubs, bunches of grapes. It's then easy to snake your other items in around them and to fill up gaps.
For a visual guide on how to put your best platter forward, check out this super quick video below.
Bon appetit! A delicious entertainer's platter for your Christ…

You don't have to be a pro to entertain at Christmas and it doesn't have to cost an arm and a leg either! Simply swapping to products in the Woolworths range (just look out for the little green 'seal of approval') like we did here. It will put you on a winner and save you a packet! We teamed up with Tania from Amazing Grazers to create this fab entertainer's platter. While it may look incredibly delicious, and very fancy, it's actually really easy to put together yourself so give it a go! Bon appetit!

Posted by Mum's Pantry on Friday, December 15, 2017
---
This is a sponsored post for Woolworths. Happy Easter!