Seven Ways to Change the Way You Dish Up Your Bolognese Recipe!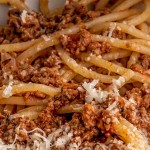 Prep Time: 25 minutes
Cook Time: 45 minutes
Print
Nutrition facts

(per portion)
Nutrition facts
(per portion)
Calories: 306g
Carbohydrate Content: 5.0g
Cholesterol Content: 0.119g
Fat Content: 10.9g
Fiber Content: 1.1g
Protein Content: 41.7g
Saturated Fat Content: 3.5g
Serving Size: 237g
Sodium Content: 0.247g
Sugar Content: 1.6g
Traditional Bolognese Recipe
Here's our fool-proof traditional bolognese recipe for you to try out 7 ways!
Instructions
Heat the oil in a large pan on a medium heat. Cook the onion and garlic until onion has softened.
Add the beef mince and cook on a medium-high heat for 8-10 minutes, breaking up the meat with a wooden spoon as it cooks.
Add the oregano and season with salt and pepper.
Add the tomato paste, wine, and stock and stir until well combined.
Bring to the boil then reduce to a simmer and cook, covered, for 30 minutes, stirring occasionally.
Serve with grated Parmesan.
Are you sick of the same Spaghetti Bolognese recipe as your go-to for a weeknight dinner? Here are some ways you can spice up your basic Bolognese and use up your Bolognese leftovers.
Add veggies
Seems like a no brainer, but bulk out your Bolognese with chopped or grated zucchini, carrot, and lentils, or replace the meat entirely for a more nutritious meal. It's such a perfect and easy way to sneak more veggies into your kids' plate! If you're a little sick of pasta, add some chopped boiled potato to the finished meat bolognese sauce instead, topped with some grated parmesan.
Turn it into a bake!
Mix your Bolognese with some cooked elbow macaroni or conchiglie, then top with grated cheddar and parmesan and bake at 200˚C/180˚C/gas mark 6 for 10 minutes or until cheese is golden brown.
Make stuffed Bolognese pitas
Break out the pita bread and serve your Bolognese with fresh sliced tomato, lettuce, onion, and grated cheddar. Guaranteed to be a weeknight favourite and perfect for using up leftover Bolognese!
Add bacon or pancetta
Add a little fried bacon or pancetta to the recipe or even flaked on top of the final dish and you'll have a flavor packed pasta the whole family will love!
Change up the pasta
Everyone loves a good spaghetti with Bolognese, but a great way to eat your Bolognese differently is to try it with different pastas. Gnocchi, orecchiette, orzo, tortellini, and agnolotti are all interesting shapes that will spice up your dish.
Serve with polenta and Italian sausage
Get all the Italian flavours and smells going in your house by switching up the pasta for polenta. Serve with a generous serving of Bolognese and grated pecorino, with a swirl of olive oil and fresh basil and you'll be sure to impress with no effort extra at all!
Make Bolognese parcels
Use up your Bolognese leftovers and make a delicious lunchbox addition for the next day with Bolognese parcels. Thaw frozen puff pastry to room temperature, then mix your Bolognese with boiled potato cubes. Then fill the parcels, brush with beaten egg, bake for 10-15 mins at 200˚C/180˚C fan/gas mark 6 and voila!