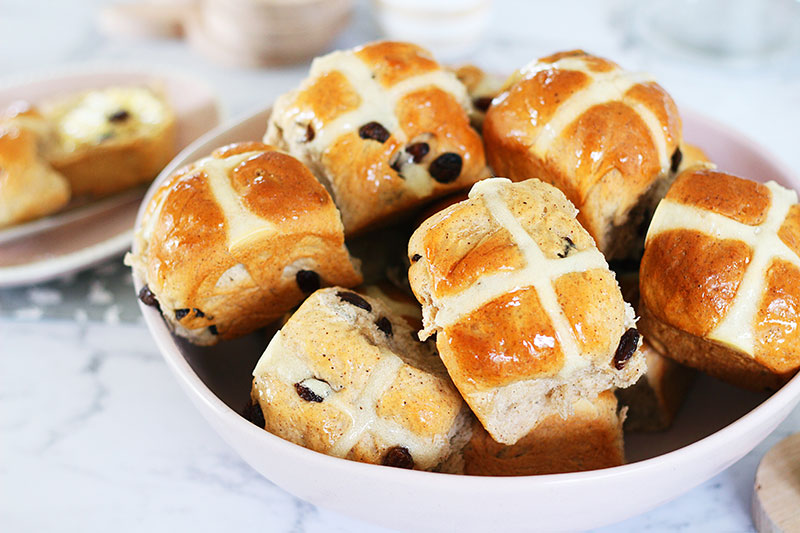 Hot Cross Buns With Traditional Fruit and Spice (and All Things Nice!)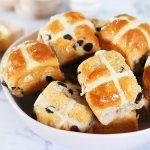 Hot Cross Buns
An economical choice for many families, baking your own hot cross buns is a real money saver! Shake up the recipe by swapping out sultanas for choc chips or leave out the fruit altogether. Delicious!
Instructions
1. In a small glass bowl, mix together the milk, yeast and 1 tablespoon of the castor sugar. Set aside in a warm area for 10 minutes or until it's frothy and active on the surface.
2. Combine the yeast mixture, butter and egg in a jug and whisk to combine. Set aside.
3. In a large mixing bowl combine the flour, bread improver, salt, spices, orange zest and remaining castor sugar. Add the sultanas and mix well.
4. Make a well in the centre, pour the milk mixture in and mix with a wooden spoon until just combined, then use your hands to bring the dough together properly. The mixture will be reasonably wet.
5. Knead the dough for 10 to 15 minutes until it becomes smooth and stretchy. Do this by hand on a lightly floured bench for an arm workout or with dough hooks in an electric stand mixer. Place the dough in a bowl and cover with a damp tea towel. Leave in a warm (non breezy) space until the dough doubles in size (about an hour to an hour).
6. Preheat the oven to 180°C. Grease and line a baking tray / roasting dish or lasagne dish with baking paper. Punch the dough down with your fist and turn it out onto a lightly floured surface. Knead for a couple of minutes and then divide the dough into 15 balls.
7. Arrange the balls on the tray next to each other, touching slightly. Set back in a warm place for another 30 minutes to prove.
8. Mix your cross mixture by adding a tablespoon of water to the flour at a time until a smooth, thick paste forms. Spoon the paste into a snack size zip-lock bag, seal it and snip a small corner in the bottom to act as a piping bag. Pipe crosses on each bun.
9. Bake in the oven for 20 - 25 minutes or until golden brown and cooked through. Turn out onto a cooling rack.
10. While the buns are still hot, heat the sugar and boiling water in a small heatproof bowl in the microwave on high for one minute. Using a pastry brush, brush the glaze over the buns for a shiny finish. Serve warm for the tastiest results!
Note: Home made hot cross buns won't be as fresh as store bought buns the day after they're made due to no preservatives. Though suitable to freeze, these are best eaten the same day they're made!
Don't bust the Easter budget buying ALL the hot cross buns, make them at home instead!