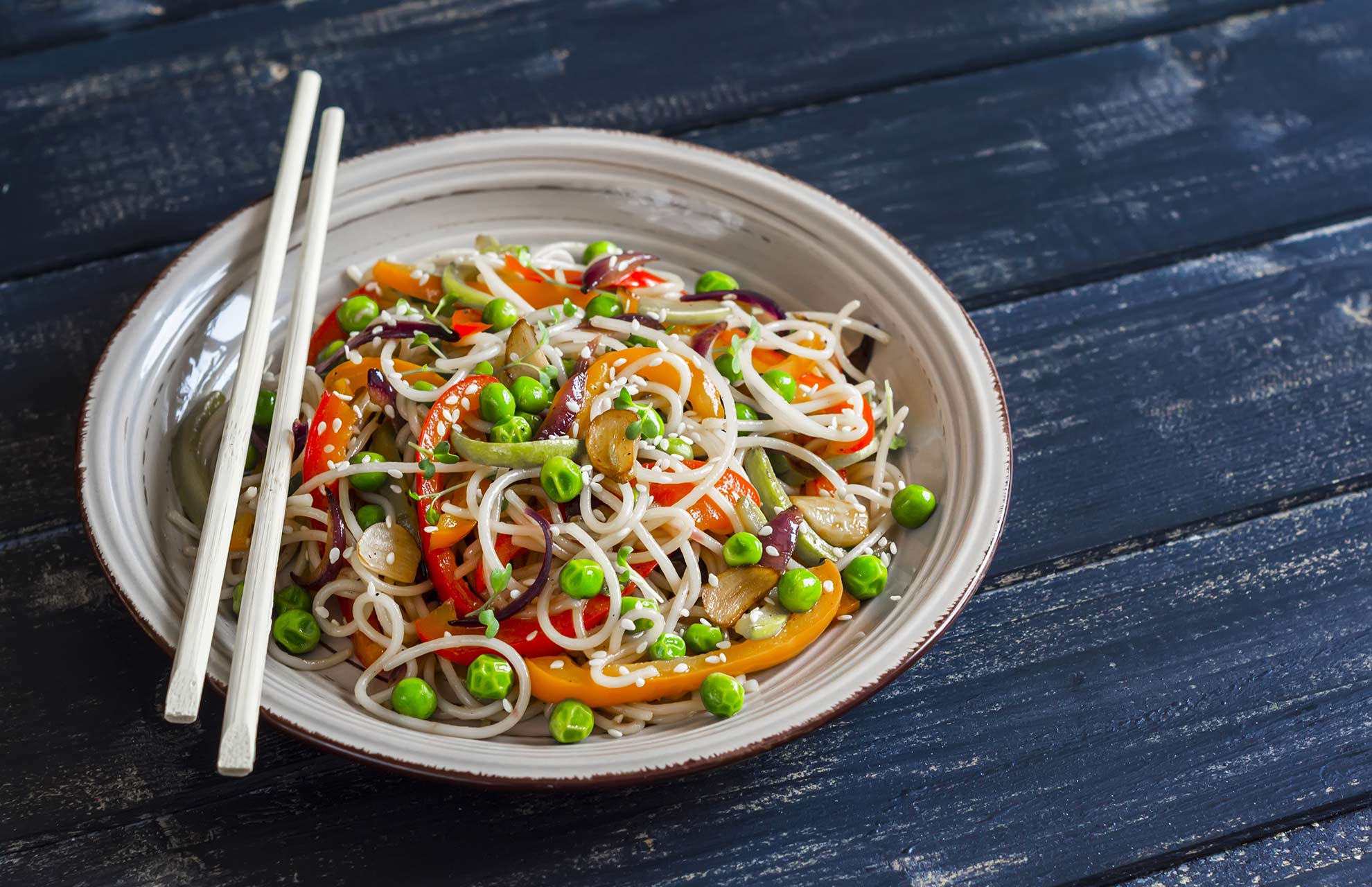 Asian Veggie Stir Fry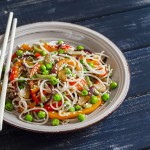 Yield: 3-4
Prep Time: 60 minutes
Cook Time: 10 minutes
Print
Nutrition facts

(per portion)
Nutrition facts
(per portion)
Calories: 272
Carbohydrate Content: 31.3g
Cholesterol Content: 0g
Fat Content: 12.0g
Fiber Content: 9.2g
Protein Content: 12.2g
Saturated Fat Content: 2.1g
Serving Size: 204g
Sodium Content: 9.97g
Sugar Content: 8.1g
Asian Veggie Stir Fry
Instructions
Soak the dried rice noodles in room temperature water for a least 1 hour. Immerse noodles in boiled water for 5-6 minutes or until noodles are soft and cooked through, but not overcooked (sticky and falling apart). Rinse with cold water and drain.
While these are soaking, also soak the dried mushrooms or funghi (if using). If using normal mushrooms, skip this step.
Make sure all other ingredients are prepared. Heat a large oiled wok to a high heat, and then add the garlic and ginger and fry for 1-2 minutes.
Add the spring onion, mushrooms or funghi, and capsicum. Sauté for 2-3 minutes, then add the peas, and all of the sauce ingredients. Season further to taste.
Continue to cook until vegetables are cooked but not over done. Add the noodles and cashews at the last minute to heat through.
Off the heat, sprinkle through the sesame seeds.
Serve hot with lime wedges alongside for an extra kick of acidity.
Allergens
Allergens
Give your regular go-to stir fry a re-vamp with our asian inspired veggie stir fry with rice noodles! It's packed with flavour and super easy to make.
Do you have a stir fry recipe you would like to share? Please submit using the 'Submit a Recipe' link above or in the comments below.