Bread and butter pudding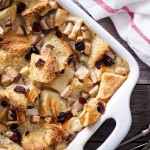 Yield: 8
Prep Time: 15 minutes
Cook Time: 35 minutes
Print
Nutrition facts

(per portion)
Nutrition facts
(per portion)
Calories: 218
Carbohydrate Content: 28.0g
Cholesterol Content: 1.03g
Fat Content: 9.6g
Fiber Content: 1.1g
Protein Content: 6.0g
Saturated Fat Content: 5.1g
Serving Size: 147g
Sodium Content: 1.76g
Sugar Content: 20.7g
Bread and butter pudding
Instructions
Preheat the oven to 180˚C. Grease a 17cm x 28 cm baking tray.
Combine the eggs, milk, cream, caster sugar, vanilla and cinnamon in a mixing bowl and whisk together.
Cut each slice of bread into quarters. Spread butter onto both sides of each slice.
Arrange one layer of bread on the bottom of the baking dish. Sprinkle with half of the dried cranberries. Repeat with another layer of bread and dried cranberries. Sprinkle the pear on the top.
Pour the egg mixture evenly over the bread. Sprinkle with extra cane sugar.
Bake for 30-35 minutes or until golden on top. Serve warm.
Allergens
Try this classic but delicious version of bread and butter pudding with pear and dried cranberries! It's a delicious afternoon tea snack as well as an after dinner dessert or brunch dish.
Do you have a pudding recipe you would like to share? Please submit using the 'Submit a Recipe' link above or in the comments below.