Cheesy Potato Bake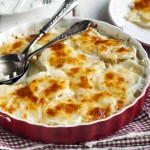 Yield: 8
Prep Time: 20 minutes
Cook Time: 1h 30 min
Print
Cheesy Potato Bake
Instructions
Preheat oven to 180˚C.
In a medium mixing bowl, stir together the cream, milk and garlic.
Cut the potatoes into 3-4mm thick slices.
In a large 6cm baking dish, layer the potato slices, seasoning with salt and pepper between the layers. Sprinkle over rosemary in between the layers also.
Pour the cream mixture over potato. Cover the top of the baking dish with foil.
Bake for 1 hour 15 minutes, until potato is tender when pierced with a fork. Remove the foil.
Sprinkle the cheese over the top of the dish and return the baking dish to the oven and bake for 15-20 minutes, or until cheese is melted and golden.
Allergens
Allergens
There's nothing more comforting than a cheesy potato bake in the middle of winter! Now that we're starting to feel the cold we thought we'd whip out this good old classic.