Chicken And Beef Wraps – Friday Night Home Made Takeaway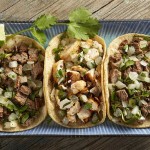 Chicken And Beef Wraps
A great Friday night go-to meal, these chicken and beef wraps make you feel like you are having takeaway but with out all the grease (and cost!)
The great thing is you can add anything to them you can make them vegetarian or you can add what ever left over meat you have in the fridge. I often use left over popcorn chicken I've frozen and it works a treat!
The fillings are endless!
Instructions
Turn 2 frying pans on high and let heat up
Add a teaspoon of butter to the pan
Pop the steak in one and move around so it doesn't stick. Let it cook for a couple of minutes until brown on the outside. Flip it over and let it cook for another minute. (We like our steak to be medium rare, it is more tender and juicer that way, cook it longer if you like.)
Take out the steak and let it sit for 5 mins while the chicken is cooking.
Add the chicken to the pan and cook the same as steak you want to make sure that the chicken is cooked the whole way through. Once you have flipped the chicken, turn the heat down and let it cook slower for approx. 5 minutes.
In the meantime cube the onions and dice the lettuce and herbs.
Cut the steak and chicken into cubes. Once cooked, and add to a bowl. (We like to mix ours, you can keep them separate though)
Place the wraps on the plates and add some lettuce, herbs and onion.
Add salt and pepper to the meat mix and mix through.
Add meat to the wraps.
Squeeze with lime juice.
Fold and enjoy!

Do you have a favourite recipe you would like to share with us? Submit them using the 'Submit a Recipe' link above or share in the comments below.