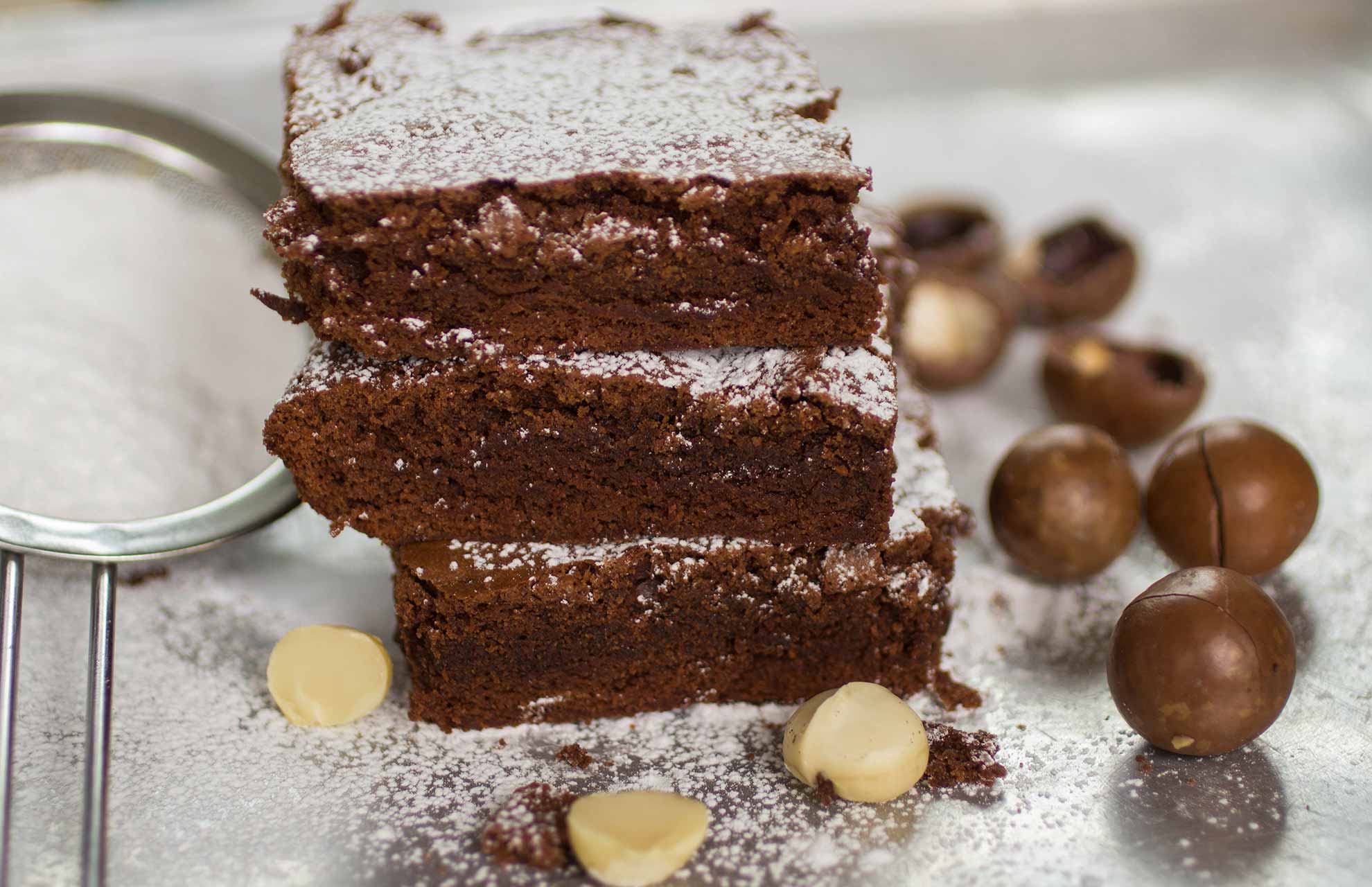 Chocolate Fudge Macadamia Brownies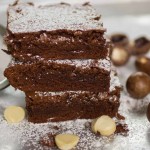 Yield: 10
Prep Time: 10 minutes
Cook Time: 30 minutes
Print
Nutrition facts

(per portion)
Nutrition facts
(per portion)
Calories: 354
Carbohydrate Content: 27.0g
Cholesterol Content: 0.41g
Fat Content: 27.3g
Fiber Content: 1.7g
Protein Content: 3.6g
Saturated Fat Content: 15.0g
Serving Size: 70g
Sodium Content: 0.155g
Sugar Content: 24.4g
Chocolate Fudge Macadamia Brownies
Instructions
Preheat the oven to 160˚C.
Melt the chocolate chips in the microwave, putting them in for 30 seconds at a time and stirring between intervals to make sure they do not burn.
In a large mixing bowl, sift in the flour, add the baking soda and sea salt and stir to combine.
In another separate bowl, add the eggs, sugar, melted coconut oil and melted chocolate and mix until well combined.
Add the wet mixture to the dry mixing bowl, and stir for 5-10 minutes until well combined and smooth.
Stir in the chopped macadamias.
Grease and line a 20 x 20 cm square baking tin with baking paper.
Pour the mixture into the lined baking tin.
When finished baked for 30 minutes, or to your liking. Remember the brownie will continue to set harder in the pan while cooling.
Serve warm with icing sugar or vanilla ice cream - or both!
Allergens
Who doesn't love a chocolate fudgy brownie! Make these chocolate fudge macadamia brownies for your school's bake sale or just for a little treat at home.
Do you have a baking recipe you would like to share? Please submit using the 'Submit a Recipe' link above or in the comments below.