Coconut Chia Seed Pudding for all day, every day!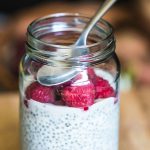 Coconut Chia Seed Pudding
Packing a powerful omega-3 punch, chia seed puddings are not only super tasty in all their creamy glory, they're good for you too!
Instructions
1. In a bowl, combine the chia seeds, coconut milk and maple syrup or honey. Stir to combine, squashing any lumps of chia seeds with the back of the spoon.
2. Leave in the bowl or divide between smaller cups or jars. Cover with plastic wrap and put them in the fridge for a minimum of six hours (or overnight) for the chia seeds to plump up nicely.
3. Before serving, top with fruit and a sprinkling of desiccated coconut.
Delicious, creamy and healthy to boot – chia pudding is delicious any time of the day!