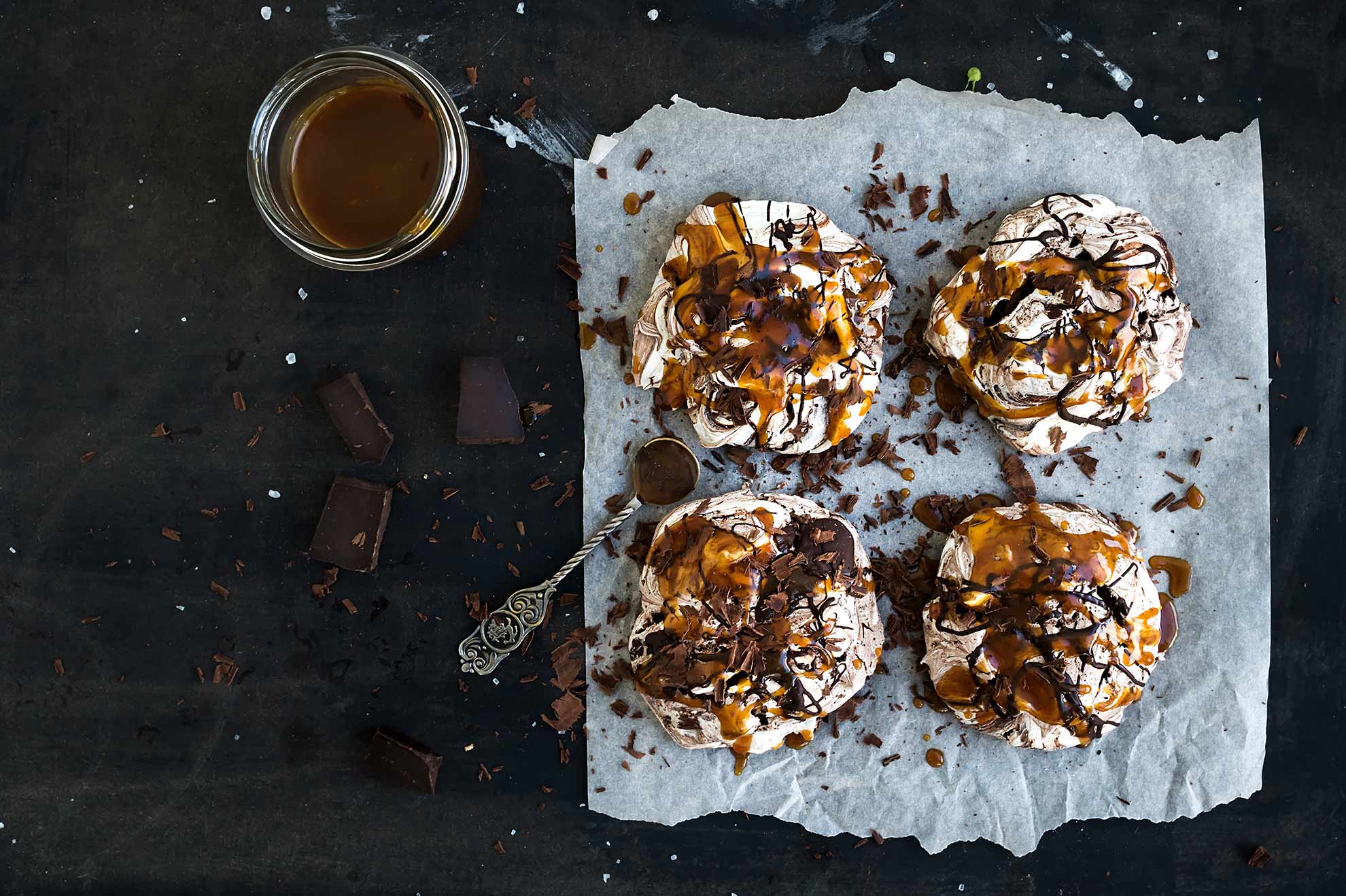 Dark Chocolate and Salted Caramel Baked Meringues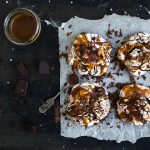 Yield: 4
Prep Time: 20 minutes
Cook Time: 1h 30 min
Print
Nutrition facts

(per portion)
Nutrition facts
(per portion)
Calories: 789
Carbohydrate Content: 156.7g
Cholesterol Content: 21mg
Fat Content: 17.7g
Fiber Content: 1.7g
Protein Content: 7.8g
Saturated Fat Content: 12.1g
Serving Size: 252g
Sodium Content: 129mg
Sugar Content: 152.1g
Dark Chocolate and Salted Caramel Baked Meringues
Instructions
Preheat the oven to 120˚C. Line a baking tray with baking paper.
In a large mixing bowl, mix the egg whites using an electric mixer until soft peaks form. Add the pinch of salt, then gradually add the sugar, whisking well in between.
Once all the sugar has been added and has been dissolved, whisk on high for a further 3 minutes until stiff peaks are formed.
Separate the meringue mixture into 4 heaps on the baking paper.
Reduce the oven temperature to 90˚C. Bake the meringues for 1 and a half hours. Once done, turn the oven off and leave in the oven to cool completely with the door open.
While the meringues are cooking, make the salted caramel sauce.
Combine the sugar and the water in a saucepan over a medium high heat. Swirl the pan to allow the liquid to combine without stirring. Watch the mixture closely for about 10 minutes. Once the mixture turns are dark amber colour, quickly take off the heat and whisk in the cream, vanilla extract and sea salt. Leave to cool.
Remove the meringues from the oven.
Melt the dark chocolate the microwave, 30 seconds at a time, watching closely after each 30 seconds to make sure it doesn't get too hot and burn. Stop once it is mostly melted except for small bits of unmelted chocolate, stir until it is melted.
Generously drizzle the dark chocolate over the meringues. Do the same with the salted caramel sauce.
Allergens
Allergens
These dark chocolate and salted caramel baked meringues are the ultimate indulgent treat. Keep them stored for up to 10 days in an airtight container, but we think they're best served with drippings of warm chocolate and caramel sauce. Sinfully delicious!