Healthy Apple and Lime Juice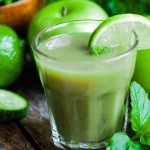 Healthy Apple And Lime Juice
If you are looking for something refreshing to start your day, then this Apple and Lime Juice is it.
This juice has a mix of sweet and tart flavours and is so refreshing any time of the day!
Instructions
Place all ingredients into a juicer and process.
Pour into a glass and enjoy!
TIP:
You can use a blender or thermomix, but it won't be as smooth in texture, it will still taste the same though.
I always make sure the ingredients are cold as well before using.
Do you have a favourite recipe you would like to share with us? Submit them using the 'Submit a Recipe' link above or share in the comments below.