Quick and Easy Mars Bar Slice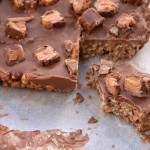 Mars Bar slice
This Mars Bar slice is so tasty and
great for parties or to bring with you to functions. You'll be the hit of the party and perfect when you're time poor!
Instructions
Line a tray with baking paper.
In a microwavable bowl add 4 Mars bars and the butter and cook on high for 2 minutes, stirring after the first minute. Please note some microwaves cook quicker then others, if in doubt keep checking every 10 seconds and stir.
Add the 3 cups of rice bubbles to the Mars Bar mixture and stir through well.
Pour the mixture into the slice tin and press down so the mixture expands evenly.
In another microwavable bowl add the cooking chocolate and half a teaspoon of coconut oil, microwave on high for 1 min 30 second.
Spread chocolate evenly over the top of the slice.
Chop one Mars Bar into random sizes and decorate the top of the slice.
Refrigerate for 3 hours.
Slice and enjoy!
Allergens

Do you have a favourite slice recipe you would like to share with us? Submit them using the 'Submit a Recipe' link above or share in the comments below.