Sausage Casserole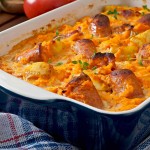 Sausage Casserole
This sausage casserole is super tasty and budget friendly, a great meal to hide veggies from the kids as well!
Instructions
Preheat oven to 180 degrees
Add all ingredients to a baking dish with lid on and cook for 50 minutes.
Take out baking dish and stir through. The pumpkin should now start to break up and thicken the sauce.
If you find it a little runny you can add a tablespoon of cornflour and mix through.
Pop back in the oven with lid off for 20 minutes.
Serve on its own or with crusty bread yum!
You can also add some grated cheese to the top for the last 10 minutes if you choose delicious!
Allergens
Allergens

Do you have a favourite recipe you would like to share with us? Submit them using the 'Submit a Recipe' link above or share in the comments below.