Vegetable, Bacon & Sausage Scroll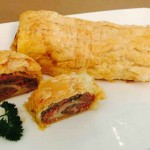 Vegetable, Bacon & Sausage Scroll
This Vegetable, Bacon and Sausage Scroll is great for a midweek meal. You can hide veggies from the kids which is always a bonus come meal time!
Instructions
Preheat oven to 180 degrees Celsius
Grate carrots, sweet potato and put into a large bowl with sausage mince
Dice onion, bacon, broccoli and lightly fry in pan. Remove from pan and mix in with sausage mix.
Add sage, parsley & basil. Mix together
Season with salt and pepper
Put mixture approx 1 inch thick onto pastry sheets.
Leaving 1 inch free on end and brush with beaten egg.
Roll Firmly.
Put on lightly greases baking tray and glaze with egg.
Bake for 30-40 minutes until cooked & golden brown. Oven times may vary.
Place on a cooling tray. Slice into approx 3 inches thick.
Serve hot or cold yum!
Leftovers also great for the following day!
Allergens
Allergens
Do you have a recipe you would like to share we would love to hear from you!