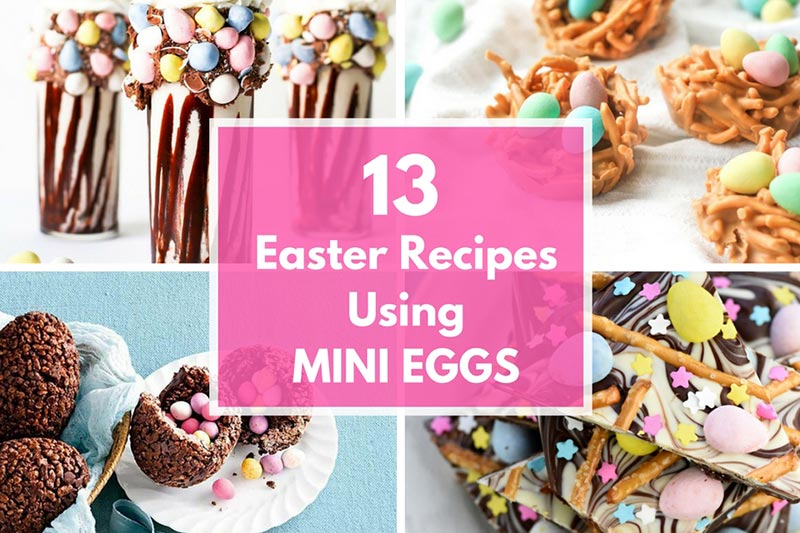 13 Fabulous Sweet Treats to Make With Mini Easter Eggs
All hail the Mini Egg. Easter Bunny KNOWS this is the egg of choice for many adults (namely myself). Got a bag of mini Easter eggs in your pantry – here's 13 mouth watering recipes to show them off in all their glory!
Why is the mini Easter egg a fave, you ask? For one, it gets top marks for sharing – one bag can be dolled out to many pleading hands.
It's great for discreet snacking, from pocket to mouth in one swoop (please, no judging). And when your pantry contains Mini Eggs, there's NOTHING YOU CAN'T DO to create an Easter themed ANYTHING. So here it is, a celebration of the mini Easter egg.
1. Milkshakes
Oh sweet baby cheeses. It's a case of go hard or go home with this Mini Egg milkshake concoction from Salty Canary. Move over 50SIXONE, there's a new chick in town.

2. Let them eat (a super pretty) cake
For the sweetest cake to show off some newly found piping skills, I adore this pastel gem from Cloudy Kitchen. Dotted with mini eggs, it's nearly as sweet as Easter Bunny himself.

3. Same same but different
All the surprise of a Kinder Surprise but made in your very own kitchen. Be brave, try this recipe from Taste and prepare to feel so very smug and so very CLEVER.

4. No bake cheesecake
If baking isn't your thing, don't despair. Even your cheesecake can be Easterific with this recipe from Taming Twins.

5. Easter Rocky road
There's nothing wrong with churning out this old favourite, Kitchen Mason's mini egg rocky road for the win!

6. Mini Egg popcorn bars
Sprinkles, mini easter eggs, popcorn, chocolate and marshmallows – what's not to love? Follow It Bakes Me Happy's how-to to recreate your own delicious Mini Egg popcorn bars.

7. No bake bird nests
My kids and I love to make the chocolate version of these and I LOVE the idea of a butterscotch addition to the Easter line up. Yum! For all the details, head on over to Ahead of Thyme.

8. Easter Bunny munch
Settling in to watch a favourite Easter movie? Swap out your regular movie treats for a bowl of Moritz Fine Designs' Easter bunny munch – it's trail mix, Easter style!

9. Simple and sweet Easter cupcakes
Perfect for picnics, these pint sized vanilla cupcakes are given an adorable Easter topper that anyone can do! Find out exactly what's involved over at Garnish and Glaze.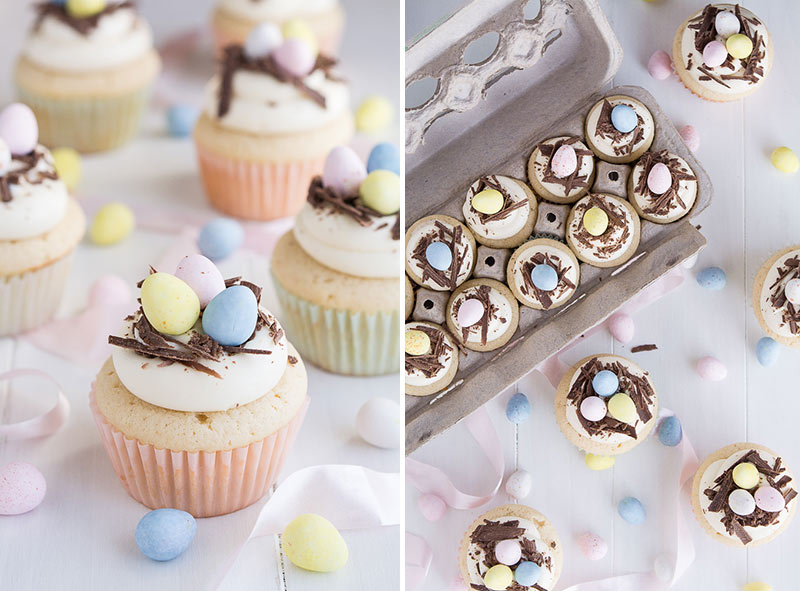 10. An Easter dessert to end all desserts
If Salty Canary's milkshakes weren't enough to whet your appetite, perhaps this doughnut, ice cream filled, chocolate sauce and mini egg topped sandwich might? Too much? Nah, surely not.

11. Mini Egg cookie bars
From Something Swanky, this easy peasy but mighty delicious, Mini Egg chocolate chip cookie bars.

12. Easter bark
You're far from barking up the wrong tree if you visit clutching a plate of chocolate bark. Head on over to Five Heart Home for the recipe!

13. Mini Egg marshmallow slice
When biscuits, marshmallow and Mini Eggs collide, amazing things happen. I take my hat off to the good folk at Taste, they know how to do Easter eggcellently.
With all that said, I wish you all a Happy Easter and may your mini Easter eggs be plentiful! Check out this cute Cadbury Creme Egg idea for more easy Easter snacks.